Elephant From Nepal Kills Two In Bihar : Several Others Were Injured In The Incident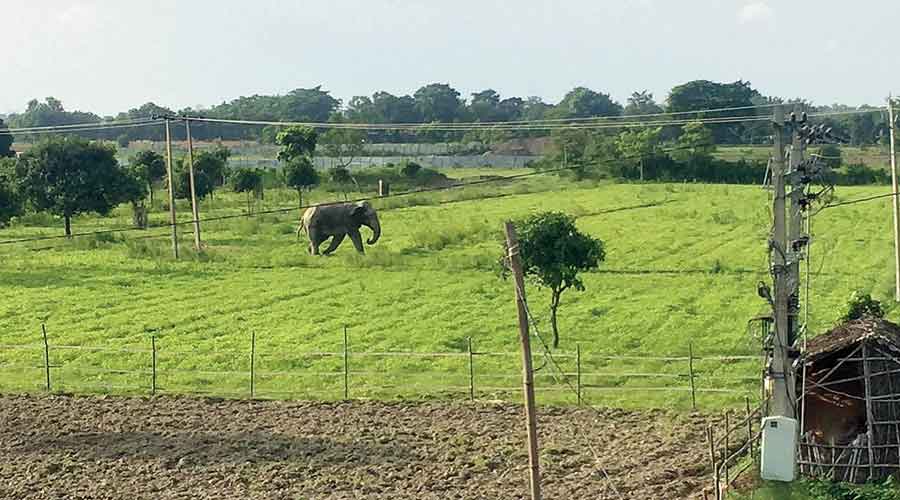 The wild elephant that strayed from Nepal into Araria district: Sanjay ChoudharyDev Raj | TT | Patna | 19.06.21: A female elephant, which had entered from Nepal, killed two persons, including an eight-year-old boy, in Araria district of Bihar, around 350km from the state capital, on Thursday evening. Several others were injured in the incident.
Officials said the elephant had strayed into Manikpur and Sonapur villages under Fulkaha police station in Araria district, around 3km from the Indo-Nepal border. It damaged several houses and several vehicles, including three tractors.
"A child and an elderly person were trampled to death by the elephant under the Fulkaha police station area.
A few people were injured in the melee caused by the rampaging wild animal," Forbesganj sub-divisional police officer (SDPO) Rampukar Singh told The Telegraph.
Singh said that the pachyderm was finally pushed towards Nepal around 10.30pm, but by then people of Jogbani and several other neighbouring areas were in panic.
The district administration and police teams patrolled the areas through the night, while the SDPO and the sub-divisional officer (SDO) camped in Fulkaha to reassure the villagers about their safety.
Araria divisional forest officer (DFO) Naresh Prasad said that elephants stray or migrate in search of food and also for mating around this time of the year. At times they cross over to India from the forested areas in Nepal.
"Normally male elephants stray away from their herd, but surprisingly this one which digressed towards
our area was a female elephant. It was looking for food, was calm and would have returned to its herd in Nepal, but the villagers created such a din that the animal panicked and started running helter-skelter.
"Two persons were killed in the process and several houses were damaged," Prasad told this newspaper.
The DFO added that hundreds of villagers kept behaving as if they have seen an elephant for the first time.
"I was surprised to see that even women were trying to go near it to click a selfie," he said.
Prasad said a team of forest department officials used crackers, torches and drums to chase away the pachyderm towards Nepal.
"Going by the foot marks, the elephant has returned to Nepal. We have been patrolling the areas along the border as a precautionary measure," Prasad said.
Read More...