Coronavirus Lockdown: A Bengal Migrant Worker's Turnaround Tale-Babuswar Murmu, Wears The Tag Of Covid Warrior Given By The State Government, With Pride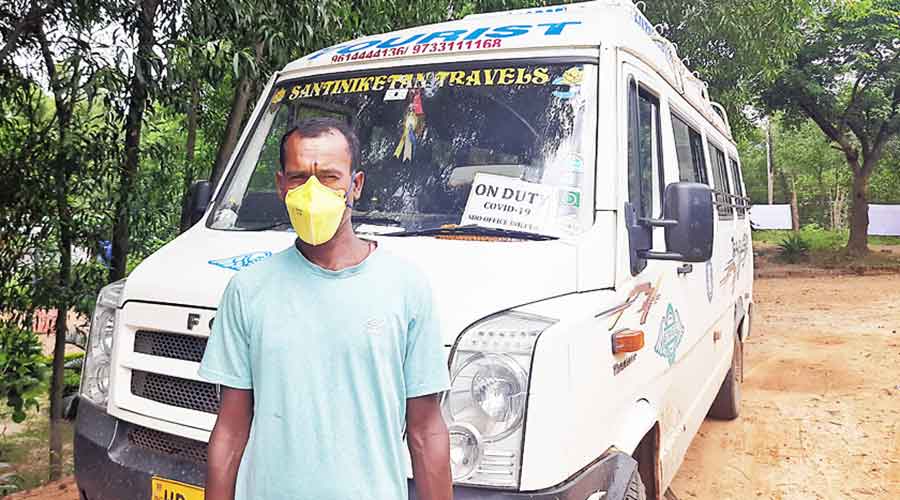 Babuswar Murmu near his government accommodation in Santiniketan
Snehamoy Chakraborty | TT | Bolpur(Birbhum) | 04.08.20 : The Covid-19 pandemic changed the life of migrant worker Babuswar Murmu, 40, twice, for the bad and the good. He touched rock bottom but then picked himself up, stronger than before.
In the initial phases of the lockdown, Murmu had to leave his security guard's job in Pune, Maharashtra, and return home to Birbhum's Rajnagar. To add to his woes, he also contracted Covid-19.
But today, he wears the tag of Covid Warrior, which is given by the state government, with pride. He also has a job of a security guard in his own state that pays more than the one in Pune.
Murmu used to earn Rs 12,000 a month in Pune. His present assignment — since July last week, Murmu has been employed as a security guard at the Covid hospital in Bolpur where he also provides sanitisers to the staff and helps carry patients from the ambulance — comes with a pay package of Rs 15,000 a month.
Murmu, whose wife Dukhi is a homemaker and two sons are students of classes VI and III, respectively, is a relieved man.
"My family of four survives on my earnings alone. I am a school dropout who moved to Pune as a young man where I worked as a private security guard. There, I got free food and housing and could send home Rs 8,000 every month. When I returned home, jobless, on May 26 this year, I was really down and out. I panicked even more as I soon found out I had Covid-19. The worst was waiting for me at home. When I returned home from the hospital, I found my family had run out of money," Murmu recalled.
He added that he was desperate enough to do any odd job so that his kids did not go hungry.
Things changed for the better for Murmu after the Mamata Banerjee government on June 29 took the initiative to offer jobs for Covid Warriors — those who were infected and had recovered.
"We have decided to set up a Covid Warriors Club with people who were infected, fought and recovered.
The warriors will be used to help the positive patients in the hospitals," Mamata had said.
Murmu was among those who fitted the bill.
"A meeting in Suri (the district headquarters) last month on Covid Warriors has changed my life, at least for now," Murmu said.
"At the meeting, I told authorities about my recent experiences and they appointed me as security guard at a hospital along with four others," Murmu said. On whether he felt any unease dealing with Covid patients, Murmu said: "I always tell them my story of my recovery to boost their morale."
Murmu and at least a dozen like him who work at the Covid hospital in Bolpur do not return home, but stay at a government accommodation in Santiniketan.
"I am earning even better than what I did in Pune. The job gives me a sense of satisfaction too, as I serve people who are infected. I know what they go through," said Murmu, among the 30-odd Covid Warriors from Birbhum.
Moumita Godara Basu, the Birbhum district magistrate, said: "We are offering Covid Warriors jobs at safe homes or hospitals and they are a great help."Read More...